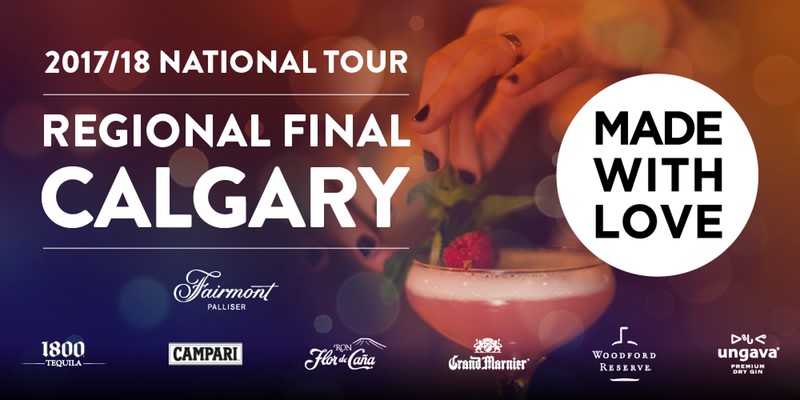 MADE WITH LOVE is Canada's largest mixology competition and is a fantastic way to discover your city's craft cocktail scene and what it has to offer by sampling unique and original cocktail and food-pairings by some of the city's most talented BarChefs.


History of the Event
The MADE WITH LOVE competition originally began in 2009 in Montreal (a city known for having a killer cocktail scene) to showcase the craft of the bartenders in Montreal. The competition has now become an annual event and has grown to include more than 150 competitions across Canada, Mexico, and Spain. There are rumours that the competition will soon expand to the United States. The mission of the event organizers is to "demistify the cocktail culture and to offer a unique experience where creativity and diversity come together in a casual environment."


How the Competition Works


This year there are 9 Qualifier Events and 9 Regional Finals Events which take place in Calgary, Halifax, Winnipeg, Montreal, Quebec City, Vancouver, Toronto, Ottawa, and newly added this year, Edmonton. From each Regional Finals Event the top three judges' choice winners will be selected for its originality, creativity, and flavour. Judges will be looking for passion, expert knowledge, distinct ingredients, and the way the competitors incorporate these elements into their cocktail creation. In addition, the top three public's choice winners will be announced and determined by audience votes (attendees of each Regional Final will sample cocktails and be given a dogtag necklace to give to the bartender of their favourite cocktail, which will be counted as a vote). The top judges' choice winner and the top public's choice winner of each Regional Finals Event will then get the chance to compete in the National Final in May 2018 to try to obtain the coveted title of best BarChef in the country! Furthermore, BarChefs will compete to win one of 10 trips to one of Made With Love's affiliated distilleries: 2 trips in France with Grand Marnier, 2 trips in Italy with Campari, 2 trips in Nicaragua with Flor de Cana, 2 trips in Kentucky with Woodford Reserve, and 2 trips in Spain with MADE WITH LOVE. Every year the city of the National Final changes.


2016 Calgary Regional Final Winners and National Champion


The Judges' Choice winners of the 2016 edition of MADE FOR LOVE Calgary Regional Final were:
1st – Nate Wry – Pigeonhole
2nd – Madeleine MacDonald – Model Milk
3rd – Fern Zevnik – Bourbon Room
"The Pursuit of Hoppyness" was a beer style cocktail comprised of Ungava gin, green hop simple syrup, lemon juice, and orange coriander foam. This complex cocktail had many different complementary flavours which worked in perfect harmony, thus creating an absolutely mindblowing tasting experience unlike any I had ever had before.


The Public's Choice winners of the 2016 edition of MADE FOR LOVE Calgary Regional Final were:
1st – Savanna Beach – The Derrick Gin Mill & Kitchen
2nd – Randy Foster – Barcelona YYC
3rd – Andrew Silver – Charbar


"Summer With Bert & Sandy" was made with Skyy vodka, ginger chili syrup, lemon juice, twisted black pepper bitters, pickled rhubarb, muddled strawberries, mint, and soda and was an ode to Savanna's grandparents. The cocktail was an elevated lemonade with complex flavours. It was paired with a deconstructed apple cobbler with rhubarb gastrique.


The Media's Choice winner was Nate Wry of Pigeonhole.
The Champion and National Winner of the 2016 edition of MADE FOR LOVE who was declared Best BarChef was Julian Bernard from Fauna in Ottawa.


The MADE WITH LOVE Experience
The MADE WITH LOVE Regional Final in Calgary was an awesome experience! There were a wide variety of original and unique cocktails using many different kinds of spirits to sample, so there was something for everyone. Several of the cocktails were paired with some sort of food item, while others incorporated a food item into their cocktail. Many different flavours and textures were used, resulting in an amazing tasting experience! The cocktails were far and above delicious, and I hope that the restaurants/bars have added them to their menus!


2017 Calgary Regional Final Competitors
Competing this year in MADE FOR LOVE's 2017 Calgary Regional Final are:
Ian Storcer – Proof
Dinah Kisil – The Coup
AJ Roque – Bourbon Room
Ray Burton – Last Best Brewing and Distilling
Madeleine Macdonald – Model Milk
Alex Newman – Brasserie Kensington
Andrew Derksen – Charbar
JP Pera – The Mission
Sam White – PRLR Lounge
Bryden Bergey – Native Tongues Taqueria
Dave Borsato – ONE18 EMPIRE
Rob Male – Fairmont Chateau Lake Louise
Colin Alexander – The Still Restaurant
Cedrick Foley – Rodney's Oyster House Calgary
India Dmytriev – Untitled Champagne Bar
Shane Bradley – Betty Lou's Library
Kayla Atayiu – Foreign Concept


Contest
Would you like to win tickets to MADE WITH LOVE 2017 and try unique cocktails and food pairings from the best mixologists in Calgary? I am giving away 2 tickets to the MADE WITH LOVE 2017 Regional Final in Calgary taking place in the Crystal Ballroom at the Fairmont Palliser on July 31, 2017! Must be 18+ to win and attend. The contest will run from today until midnight July 27, 2017 Mountain Time. The winner will be drawn and contacted on July 28, 2016 by email or the social media platform you used to enter the contest. Enter below. Good luck!


a Rafflecopter giveaway

If you would like to purchase tickets to the MADE WITH LOVE 2017 Regional Final in Calgary you can do so here.


What is your favourite cocktail or the most unique cocktail you have ever had?


This giveaway and Photos 1, 2, 3, and 4 were courtesy of MADE WITH LOVE.

Spread the love
117

117

Shares