Food For Thought is an annual family-friendly event in Calgary, Alberta, Canada which offers the opportunity to sample over 22 local foods and craft beverages while learning about sustainable food and its impact on your health, the planet, and the local economy from local chefs and farmers. In addition, there will be activities for children of ages 3-12 aimed at introducing and exciting them to eat nutritious, whole food, live music by local musicians, and mini living rooms where you can relax and watch videos about the best food businesses in the region (sponsored by ATB Financial). Food For Thought is part of National Organic Week (September 17-25, 2016) and is Bullfrogpowered with 100% green electricity.


Host and Sponsors
This event is hosted by the REAP (Respect for the Earth and All People) Business Association with the support of Community Natural Foods and Hotel Arts. REAP is a not-for-profit association for locally owned businesses that care about the community and the environment. REAP's "Be Local" campaign helps Calgarians find local businesses that reflect their values. By choosing these businesses they contribute to the development of renewable energy in Alberta, reduce waste through recycling and composting programs, ensure employees are paid a Living Wage, create Community Orchards in areas where people can't afford fresh fruit, and keep more money recirculating in the local economy, therefore demonstrating that business can make a profit while contributing to healthy and prosperous communities.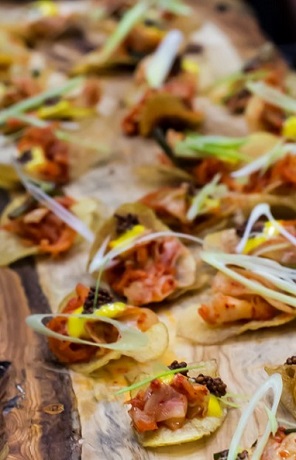 Details About the Event and Where to Purchase Tickets
REAPS's 7th Annual Food For Thought takes place Sunday, September, 25 2016 from 1:00 – 4:00 PM at Hotel Arts in Calgary. All of the eating and drinking is included in your admission. Each ticket purchased will provide a meal to someone in need through Mealshare. If you would like to purchase tickets to the event you can do so here. The event page also contains the list of restaurants, businesses, and farms and what they will be serving at the event as well as the community partners which will have displays.
Advance ticket sales close at 11:59 pm on Friday, September 23. Tickets purchased at the door on September 25th will increase by $10 for adults. 25% Calgary Dollars will be accepted at the door only.
Food For Thought is said to be a local feast for the senses. This event sells out every year. You don't want to miss it!


Contest
Would you like to win tickets to the event and try food and beverages from local chefs, farms, and businesses? I am giving away 2 tickets to REAP's 7th Annual Food For Thought Event in Calgary taking place at Hotel Arts! You must be 18+ to win or be accompanied by someone 18+. The contest will run from Wednesday, September 14, 2016 until midnight Wednesday September 21, 2016 Mountain Time. The winner will be drawn and contacted on September 22, 2016 by email or the Social Media account used to enter the contest. Enter below. Please make sure after completing each method of entry to fill in the box that asks for an action, for example it may ask you to fill in your Twitter account or url of your tweet (there will be no action required for Facebook) and to click on the box that says "I Follow," "I Visited," and/or "I Tweeted" in order to get credit for each method of entry. The method of entry will then appear with a check mark next to it. Good luck!


a Rafflecopter giveaway

What is your favourite local business? Why?


This giveaway and pictures were courtesy of REAP Business Association.

Spread the love
15

15

Shares